The point of this project was to build a reliable, comfortable, tough, and capable weekend trail and excursion truck out of an everyday Chevrolet TrailBlazer.
First of all, I drive the truck 20 miles to and from work everyday as a daily driver. So, the goal is a vehicle that is refined on the highway, yet stout enough to get us where we want to go off road. The hopes are to create a modular design that is rough and ready when needed, able to pack away a few weeks worth of supplies, but also spacious enough to seat 5 people when needed. We'll see how that goes over time.
Above is how I first saw my new vehicle on AutoTrader.com. The vehicle is a 2005 Chevrolet TrailBlazer with LT trim. It is essentially loaded, only missing the factory navigation unit. While those various bells and whistles have little merit on the trails, they are very nice for long trips and everyday commutes. There were a few options I specifically looked for when purchasing the truck.
The first thing to look for was the 4wd option. The TrailBlazer is actually very well equipped in this area. There are four selection choices, described below: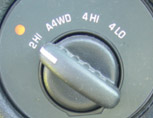 2 HI – Standard rear wheel drive.
A4WD – When the computer senses wheel slippage, the front wheels instantly engage.
4 HI – Locks the front and rear drive shafts. 1:1 drive ratio.
4 LO – Shifts the 4WD into a 2.7:1 crawl ratio.
The second major option needed for trail driving is the Eaton G80 factory rear locker. Look for the G80 code in the glove box to verify that your vehicle has one. It is an automatic mechanical locker. Once it senses slippage between the rear wheels (in any drive mode) it locks the rear half shafts together until the input torque is taken from the drive shaft.
The TrailBlazer has a optional V8, however I opted for the standard I6 due to the slightly increased fuel mileage and room under the hood. The TrailBlazer also has a long wheel base option (EXT). If you want to have better luck off road, I recommend the short wheel base (SWB). There are some members at TrailVoy.com that wheel the EXTs with some success, however the break- over angle is much better for the SWBs. The improved angle will help you from getting high-centered.
I also looked for leather seats. Just between you and me, its a whole lot easier to wipe mud and dirt off leather than cloth. Plus, the leather option has heated seats, which keeps the Mrs. happy. The integrated satellite radio and Bose sound system could also be nice for the long hauls.