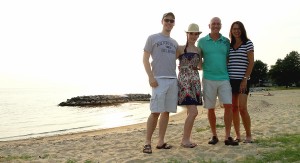 We spent one of the past weekends exploring the small eastern shore town of Rock Hall with my mom and dad.  The little harbor town really surprised us with it's quaint homes and "bayshore" atmosphere.
During our route to Rock Hall, we stopped in "The Narrows", along Rt 50 after the bay bridge.  The Narrows restaurant was a nice midway stop along the drive (maybe 1 hour from Baltimore).  We stopped there because I had heard about their Chesapeake Bay crab cakes.  They were excellent, as were the drinks and crab dip.
In Rock Hall, we stayed at the Black Duck Inn.  The owner (I forget her name), had a wealth of information about the area and pointed us to the Harbor Shack and Waterman's Crab House for our meals.  Both places had delicious food, but the heat was quite unbearable.  While eating dinner at Waterman's at 8pm, the temperatures were likely still above 95.  This wasn't the restaurant's fault, mind you.  The weekend we were there, BWI hit record temperatures.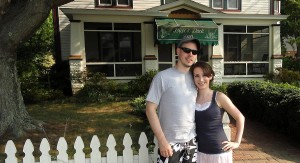 For breakfast, we ate at the Black Duck Inn's dockside cafe.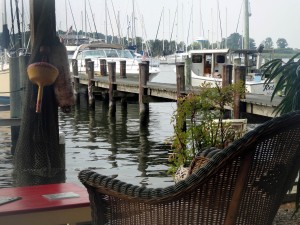 Dad and I also got a chance to ride along for a sail cruise into the bay with Blue Crab Charters (http://www.bluecrabcharters.com/).  Captain Mark was a blast, as we enjoyed chatting and shooting the "cannon" at the powerboats that got too close!