it was time to begin the big modifications. A proper suspension lift takes a lot of planning on these vehicles. By proper, I mean upgrading the necessary secondary parts along with the lift. I also did not want to go through a portion of time with a lift and undersized stock tires, so bigger tires were to accompany the lift 'package.' For me, the package included the lift, rear springs, front shocks, and wheel spacers.
The TrailBlazer is unfriendly to being lifted due to the front differential's unusual mount to the engine's oil pan. The half-shaft actually runs through the pan. I believe this was done by the Chevy engineers in an attempt to make the engine as low as possible. While this does make a lift greater than about 3″ impossible without extreme changes, the resulting low hood does provide the driver with a good view of the trail and the low CG gives us decent lateral stability.
The TrailBlazer aftermarket is rather small when it comes to lifts. We have a few options that I know of, and they are all covered in relative detail on offroadtb.com.  Link here: The Complete Lifts and Suspension Accessories Thread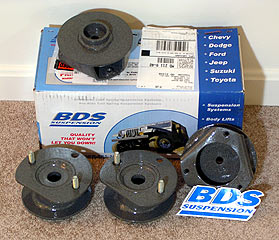 The BDS kit, which I have and personally prefer, (to the right) advertises 2″ of lift, front and rear spacers included. While the BDS kit is the most expensive of the options, I feel it offers the greatest strength and durability, and that matters off the road. It replaces the front upper strut mounting plate and is made completely of steel. The rear BDS spacer mounts to the top of the spring and is retained by a couple bolts. The kit includes new upper strut mounting bushings and new hardware.
There have been some questions regarding how strut spacers work, so I made the below diagram to help explain how they add lift, yet retain the stock (and safe) maximum suspension extension.