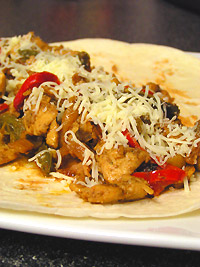 Last night we made some excellent Fajitas.
Ingredients (serves 3-4):
1 onion
1 red pepper
1 green pepper
1.5 lbs of chicken breast
extra large burrito tortillas
Worcestershire sauces
re-fried beans
olive oil
shredded cheddar cheese
shredded monterey jack cheese
Begin by cutting up the unions and peppers into pieces roughly 1/4″ wide and 3″ long.  Heat up a thin layer of oil in a 12″ skillet.  Add onions and peppers.  Continue stirring and adding oil as needed – if you don't these can burn easily (as James figure out).  Add Worcestershire sauce.  Cook until the onions begin to caramelize.
While the veggies are cooking – cut up the chicken into little strips and mix up the fajita seasoning mix:
1.5 teaspoon of cumin ground
1/2 teaspoon of oregano dried, crushed
1/4 teaspoon of salt
1/4 teaspoon of red pepper ground
1/4 teaspoon of black pepper ground
1/8 teaspoon of garlic powder
1/8 teaspoon of chili powder
Add the chicken to the skillet and begin cooking them with the veggies.  Begin mixing in the seasoning mix.
Stir the mixture in the skillet well to ensure the chicken gets cooked on all sides.  Once the pink is gone, cook for only a couple minutes longer.
Heat up the refried beans.  You can do this in the microwave for two minutes.
Heat the tortillas in the microwave.
Serve by spreading a light coat of beans on the inside of the fajita.  Add the hot mixture of meat and veggies,  then sprinkle with the cheeses.  Enjoy… we did!